A2C is a top-of-the-line design using full-sensing technology, including an anti-drip head and relative movement separation with a tapered barb. Its simple and smart appearance makes it a leader in the global smart lock industry. The exquisite painting process on the surface, clear and transparent satin stripes, bright satin luster, full of vitality and elegance, all kinds of fashion and practicality, are full of promising technology in the future.
Top-level Design With Full-sensing Technology
The fingerprint sensor is built into the door handle, and it can be refreshed and verified automatically with one click by following the blind contact guide. The three-color breathing light on the desktop adopts A2C special design, which has an efficient operation and listening experience, and the interactive three-colors can be converted cleverly like a genius.
1. In refresh and ready mode, the breathing light is displayed in blue;
2. After the operation is successful, and the breathing light is green;
3. When the operation fails or is in an alarm state, and the breathing light is red;
The oxidized dense metal protective layer has excellent wear resistance, high-temperature resistance, corrosion resistance, and is easy to clean, and daily operations are simpler.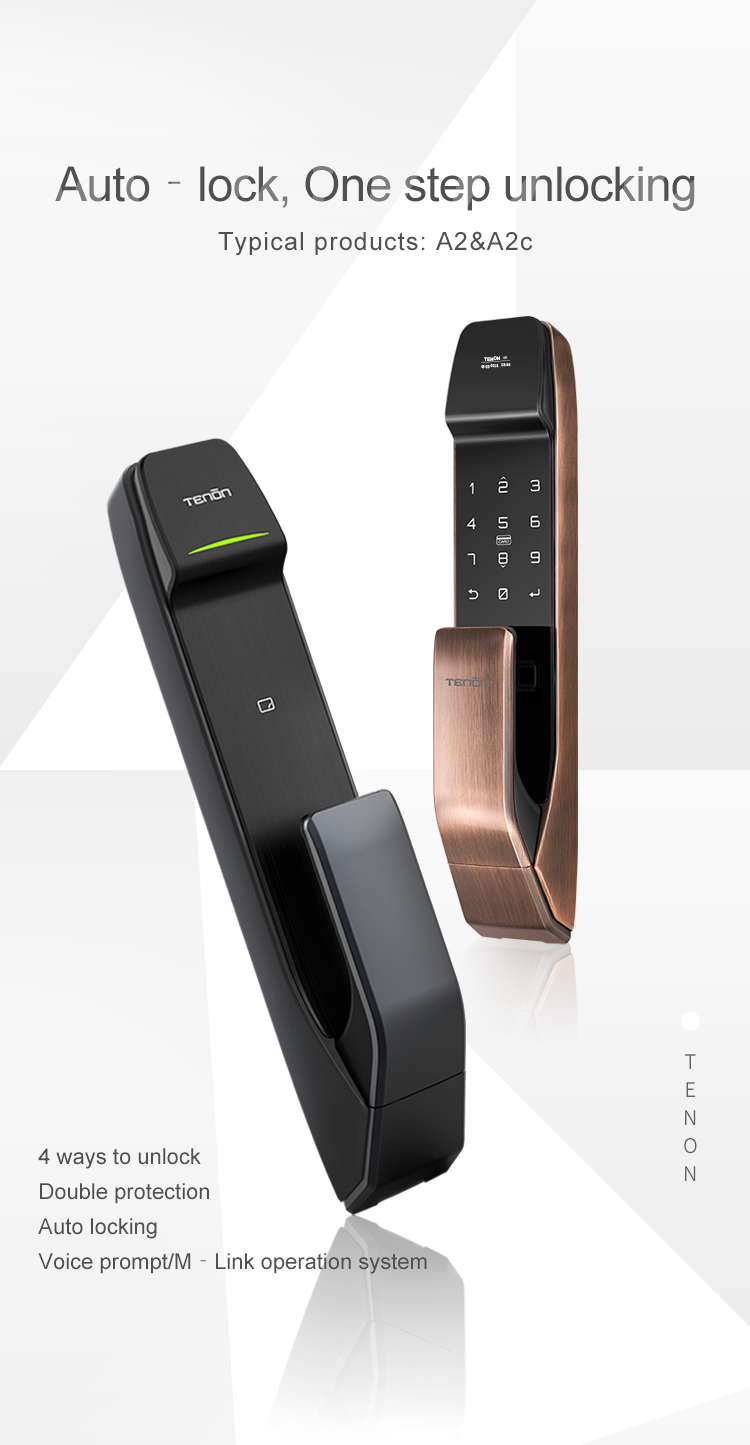 Prominent Quality Guarantee Reliable & Security
Tenon fingerprint locks we know of them with " Reliable & Security," which adopts internal and external two-tier protection that is different from general-brands providing one-tier external protective design smart lock.
The first external protection:
Ⅰ.The integrated die-casting mold plate has super impact resistance;
Ⅱ.The sturdy push-pull handle effectively protects the lock body, avoiding forced unlocking and resisting external forces;
Ⅲ.The semiconductor fingerprint sensor penetrates deeply into the cortex to identify live fingerprints,and fake fingerprints cannot be unlocked;
Ⅳ.Design a privacy password that can be identified as close to the real password;
Ⅴ.Anti-cracking password function, if the wrong password is entered 5 times within 3 minutes, the smart lock will enter the dormant state within 3 minutes;
The second external protection:
Ⅰ.A2C adopts a new generation of the automatic lock body, made of 304 stainless steel, sturdy and durable, and equipped with a C-level lock cylinder. This structure can avoid forced opening and ensure safety;
Ⅱ.The special dual control system avoids electrostatic unlocking, and the lock drive system is installed in the rear panel.Even if the thief destroys the front panel, the door lock cannot be opened, which can prevent the smart lock from electromagnetic interference;
Ⅲ.Tenon's corporate standards are far superior to industry standards, and products are produced in strict accordance with corporate standards. By rigorous environmental testing, electromagnetic testing, destructive testing, life testing, and other reliable tests, to ensure that 200,000 times of trouble-free unlocking for more than 15 years;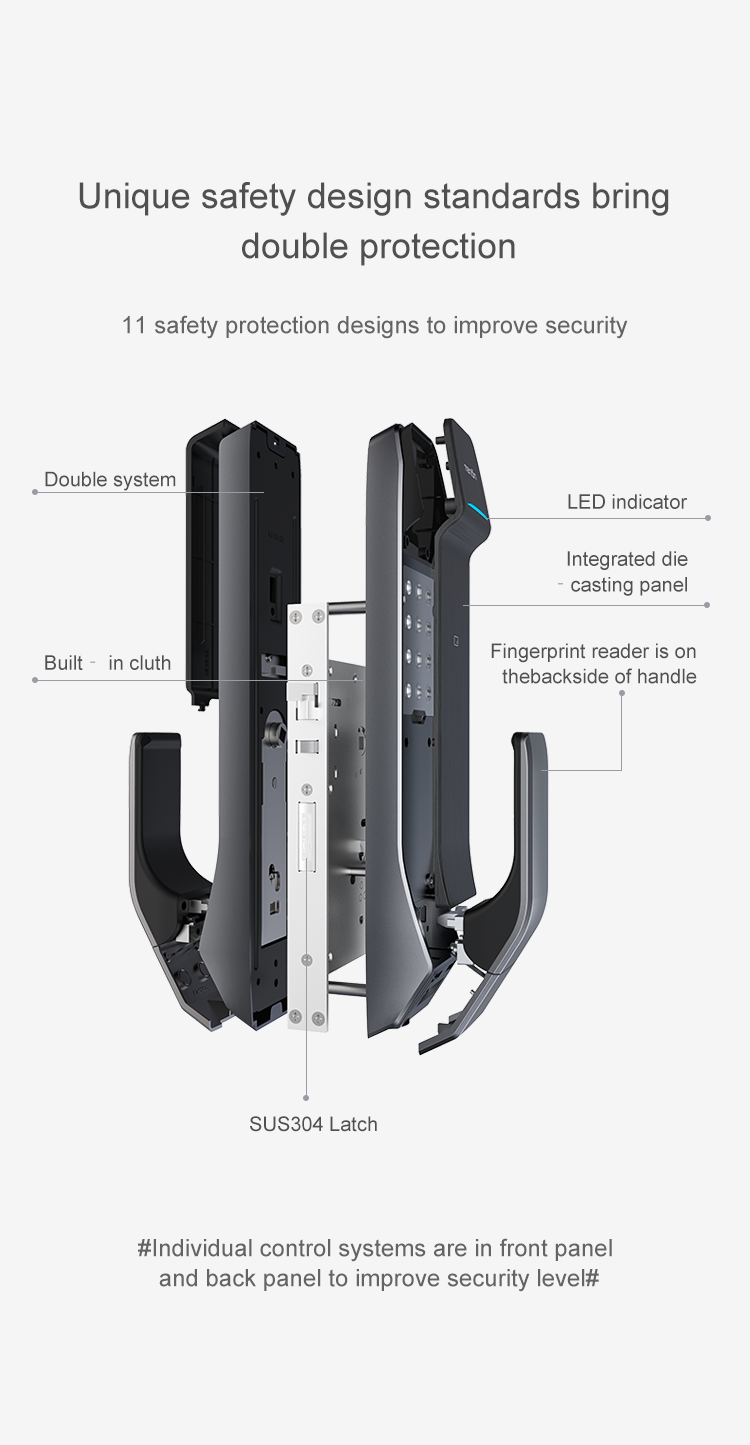 Technology Innovation Creates Optimal Experiences
A2C is equipped with a voice guard, and users can operate the smart lock according to voice prompts without a user manual. Classic voice guard settings + two-code dual system + multiple independent unlocking functions + intelligent damage self-checking + fault-tolerant processing, the combination of software and hardware achieves the strongest protection.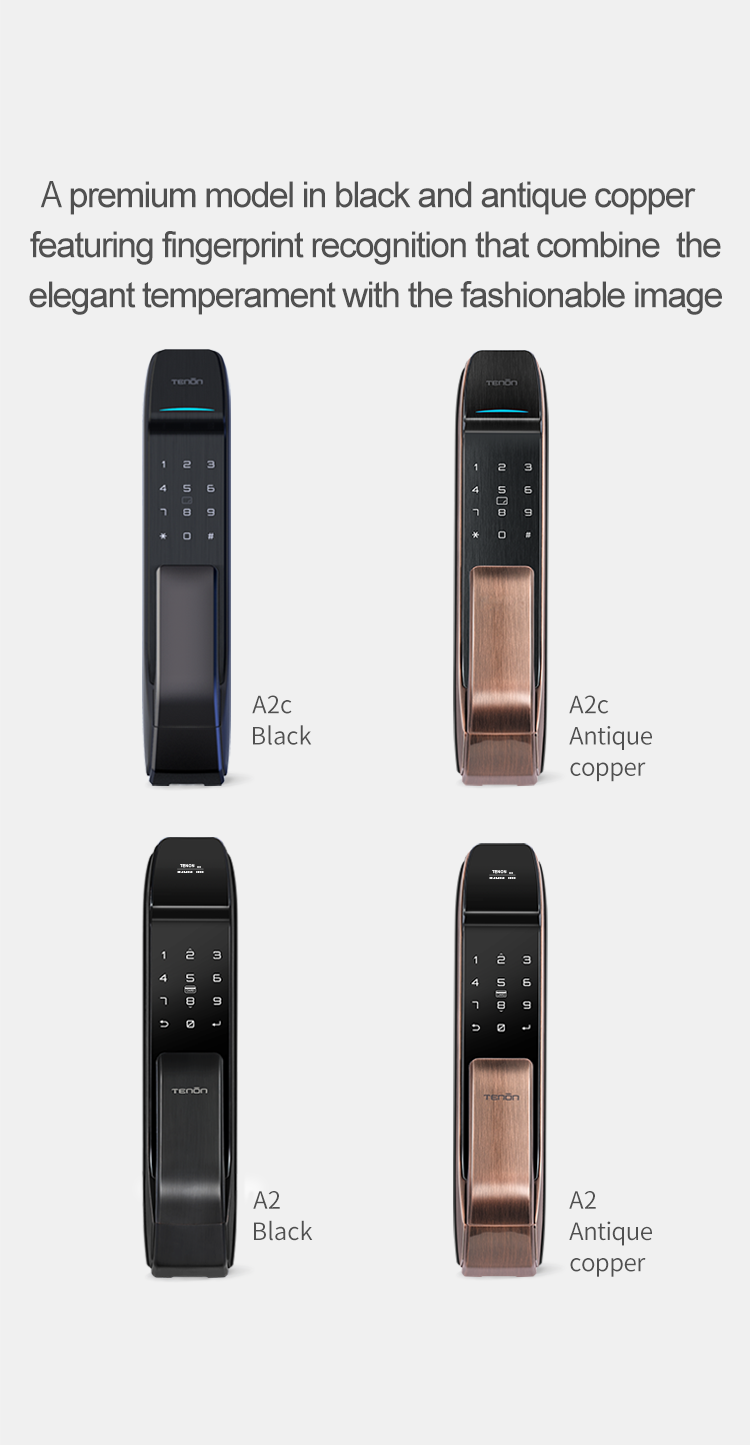 Welcome distributors all over the world to establish a win-win business partnership. Reach out to us at info@aptenon.com for more information.