TENON is one Top 3 smart door lock supplier with 20 years experience and China first Listed company in the lock industry (Stock Code: 833559)
Tenon participated in the B2B PSG live webinar on December 8th, showing A7x and A2 wholesale smart locks to smart lock distributors around the world. The live webinar connects the intelligent need of consumers, manufacturers, brands, OEMs, and retail chains. Offering Electrical/ Home Appliances/ Lighting/ Pets Products/ Health/ Security/ Sensors/ Hub& Panel and more.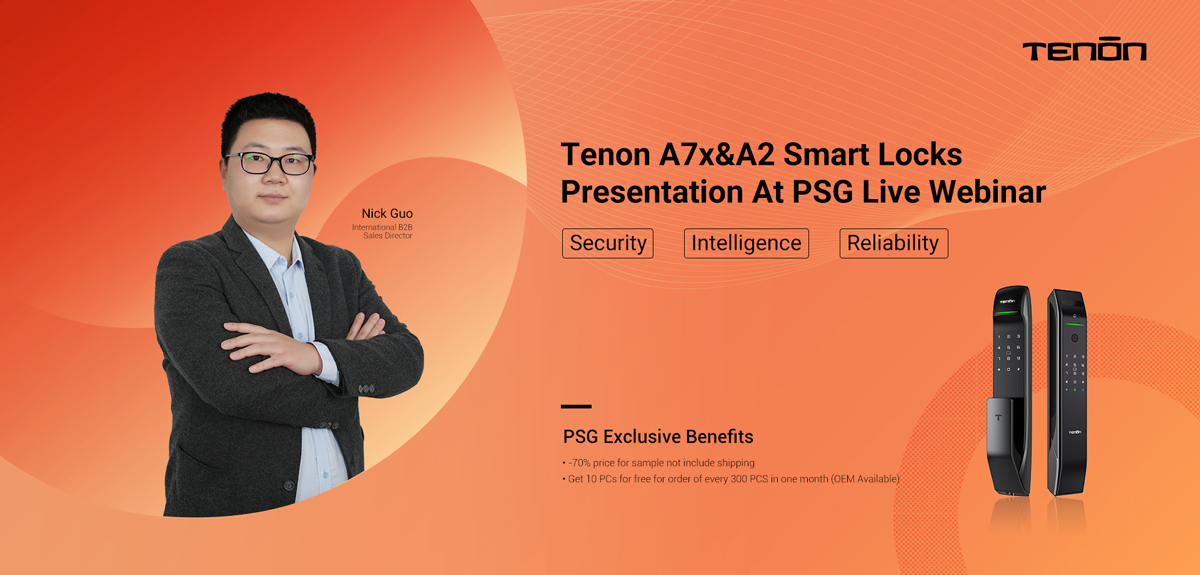 Live Webinars is a smart product B2B sourcing platform that connects global buyers directly with manufacturers. The PSG series is a set of live webinars produced by global manufacturers, aiming at providing global buyers with deep insights and a smart lock selection guide. Presented by over 300 IoT experts and ecosystem partners.
For webinar exclusive benefits

· 30min to get full insights of the smart lock market;
· Discover the 20 Best Smart Locks selected by Live Webinars;
· Interact with leading manufacturers and industry IoT experts;
At the live webinar, Tenon International B2B sales director Nick first introduced the A7x face recognition smart lock. The front and rear panels are made of zinc alloy, while the automatic bolt lock is made of stainless steel. From outside, there are 8 unlocking ways, including face recognition +fingerprint +password + card + mechanical key + APP remote unlocking + Temporary password. There is a quick unlock button and a mechanical knob for unlocking the rear panel.
For more details, Nick introduced in detail the comparison between Tenon's face recognition smart lock A7X and other brands.
a. A7x is equipped with the latest 3D face recognition technology, which can easily distinguish real faces and pictures. Whether you wear glasses, hats, or light makeup. The false rejection rate is less than 0.01%, and the A7x can recognize faces even in a dark environment.
b. What you care about most would still be the power consumption and service life. Our A7X is equipped with 8 alkaline batteries and supports 10K~12K unlocks.
c. For different markets, their mortise lock standards will be different. Some need 60mm back, some need 70mm, Tenon can provide both.
d. At the same time, it can be used with ZigBee or Wi-Fi smart home system through the gateway, which is very smart and convenient.
Nick recommended the market for A7x's entries. He said that A7X face recognition smart door lock is very popular in Asia, the Middle East, and Latin America. If smart lock distributors are looking for a stylish and high-level smart lock, A7X will be the best choice.
In addition, Tenon regional sales manager Lisa Wen presented the model A2 which is an automatic push-pull lock, and it's the Golden Star on Tenon's best sell list. A2 push-pull keyless lock has complete 5-in-1 unlocking ways(fingerprint/password/card/keys/APP), it's super popular in the Asian, and South American markets, and based on the good price you can get a durable automatic lock.
Compared with many other smart locks, A2 is a cost-effective model and a perfect combination of Electronics and Mechanics. Tenon has to mention A2 is the most unique design, which passed 200,000 cycles of durable tests for it as you know the international standard is only 100,000 cycles. A2 whole handle is made up with zinc alloy, and the secret is on the mortise, not like other locks in which the motor is separated from the mortise, A2 is built with an electronic motor on the mortise, it gives a quick response, and greatly saves power consumption, 8pcs alkaline batteries, the battery life can last for 12 months. If smart lock distributors are looking for a durable and cost-effective automatic lock, A2 is definitely the best choice.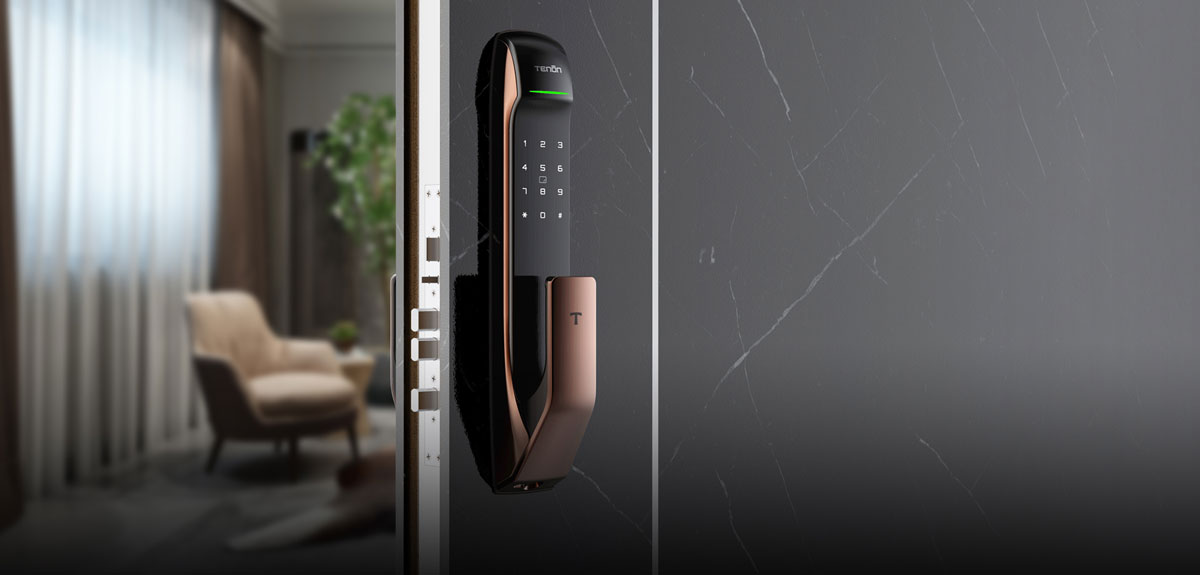 At Tenon, we put eyes on a world vision and devote ourselves to expanding the business into global. Reach out to us by info@aptenontech.com for further details.